2020 SUMMER FILMMAKERS COLLECTIVE
NOTE TO SLC 2020
Admitted Students
Please make sure to inform our registration office that you are an incoming student to SLC.
The Filmmakers Collective is a partnership program with Sarah Lawrence College.
The PROGRAM

The focus of the Five-Week Intensive is on storytelling and developing the skill sets necessary to translate the written page onto the screen. This is the backbone of our program, in which every student produces and directs their own 4-6 minute finished project. Along the way, we will cover the technical aspects necessary to produce a final film - everything from operating cameras, to setting up lights and capturing sound.


THE CURRICULUM

Students will be participating in the following classes. Each class will have a different instructor.
* Screenwriting Class
* Directing Class
* Working With Actors
* Camera Tech Class
* Lighting Workshop
* Editing Class
* Producing Workshop

Every class is designed to build on the information from a previous session. That is to say, each day and session is designed to build on the information you've already gained and get you to the next level. For instance, screenplays developed in the Screenwriting session are analyzed in the Directing Sessions. Once students have an understanding on how to break down scenes on the written page and compose it into shots, they will then go into Camera and Lighting to learn how to use the tools that will bring their projects to life. This will then be followed by a Working With Actors session, Producing overview, and finally a full Casting Session in New York City where they will have the opportunity to cast professional actors in their films. Because of the way the curriculum is structured, attendance and participation are essential to the success of your project.

WEEK ONE AND TWO:
SCREENWRITING, DIRECTING AND TECHNICAL SKILLS
The course begins with screenwriting. Students will first brainstorm ideas and then select one to be developed and produced during the production week. By the end of the first week every student will have a first draft of a script.

This portion of the program is also filled with hard and soft skills classes that are designed to prepare the student for making the final film. That includes the technical aspects of operating camera, light and sound equipment, as well as directing and the fine art of working with actors. Once this intensive "cramming" session is accomplished, the Pre-Production phase begins.

WEEK THREE:
PRE-PRODUCTION AND CONTINUED SKILLS CLASSES
During pre-production, students will organize the elements that will make their final film. This includes casting their film, finding locations, gathering props, wardrobe, scheduling, and reserving production equipment. Staff will be available throughout the pre-production process, which also includes continued screenwriting, directing and lighting classes. The one-on-one support we provide each student during this phase is integral to the success of our program and the success of each and every film produced.

CASTING
The Casting Session kicks off the pre-production process. As a group, students will attend an all day open-call casting session in New York City. Actors will audition for every project scheduled to be produced. This is a perfect opportunity to find the talent that will bring the project to life. Throughout this casting session we typically get between 75-100 actors looking to work on student productions (for experience and reel clips, not compensation). After the casting session, students will follow up with individual actors to book them for roles.

SCHEDULING
During the scheduling portion of pre-production, students will create talent, crew, and location schedules to make sure everyone has enough time to produce their final projects. Every production shoot will be scheduled into a week-long production period. In addition, each student will meet with their Production Staff Member who will be on set throughout the shoot to supervise and support the film team. The Production Staff will be on hand to smooth out technical and crew complications as well as provide guidance on proper set etiquette; they are not there to make the film for the student. Students take on full responsibility for their project and must do their best to make it come together.

PRODUCTION BUDGET AND EXPENSES
The IFI and Sarah Lawrence College will provide each student with available resources to limit the expenses associated with each project. This includes equipment and support finding on-campus shooting locations. What is NOT included in the program tuition are a few expenses necessary to successfully complete a film that will be incurred by each student. These expenses can include transportation, cast and crew meals and props. More on this below:

TRANSPORTATION – If students are working with talent from outside of the Sarah Lawrence community, they will need to provide transportation to and from campus or any location where the shooting will be taking place. (Train tickets or Uber costs, for example). On average this cost ranges between $12-$40 depending on the number of shoot days. This will be discussed during the pre-production period.

MEALS ON-SET – Each student will be responsible for providing meals for their cast and crew throughout production. This is not as complicated as it sounds: Bagels and coffee for breakfast, pizza for lunch and, if a long day, Chinese food for dinner, will keep tummies full and things running smoothly. Though a seemingly minor detail, craft services is a very big part of making movies and it's important to learn about every step of the process. This includes feeding the folks helping to make your vision come to life. After all, a happy film crew is a very productive film crew.

PROPS and WARDROBE – If there are special props or wardrobe considerations they need to be purchased before the day of the production. For example, if a white shirt is needed for a scene where the actor will spill coffee on himself, then several white shirts will be necessary for the shoot.

DRY CLEANING – For the most part actors will be able to bring in wardrobe. If any article of clothing is soiled beyond what might be considered normal, it should be properly cleaned, at your expense.

These are just a few examples of expenses that might arise as each film project comes together. We ask that students not spend more than $250 on their final projects, most of which should go toward transportation and meals. Just keep in mind that talent will be coming in to work with no compensation. Do what you can to show your appreciation!

WEEK FOUR:
PRODUCTION
Filmmaking is a collaborative effort. A film cannot be made alone. At The IFI, we emphasize collaboration by requiring teamwork. Students should be aware that, in addition to their own film, they must collaborate and participate as crew members in the production of other students' projects. Each student will be working on at least three other films in addition to helming their own project. It will be a very intense week, but students will learn that you get what you give and that they must support others so that others will support their projects, in turn.

Part of treating your crew, aka fellow classmates, with respect and appreciation is running an orderly, disciplined set while maintaining an unflappable attitude if and when things go off-plan. Understanding what you will need and working with your team to get it is crucial to a successful end-product and as a rule, the more organized the production the better the overall result. (Keep in mind that throughout this process a Production Staff Member will be alongside you to help make sure everything goes as planned.) Of course, the best-laid plans can always go awry. An actor can get sick, a location can become unavailable, weather can intercede, a camera can malfunction, etc. This is not the end of the world. We take a deep breath and push on through. Thinking on your feet and coming up with back-up plans is part of the process. It is extremely important to always keep your cool and know that you are at The IFI to learn how to make a movie. Failure and complications are just part of the learning process. Make mistakes, get corrected, adjust, and all will be fine. Before you know it, the shooting period will be over and you will be sitting in the editing room reviewing the footage from that incredibly crazy week of production.

WEEK FIVE:
EDITING AND PREMIERE NIGHT
During the editing period students will work on putting together the film from footage they shot just days before. Students will review footage, organize, and begin the editing process, with the help of an editing monitor will be available to help throughout their time in the edit room. As they piece together the scenes, students might find missing elements that are integral to the telling of the story. If this happens they will schedule a "Pick-up" day to shoot the missing elements.

Finally, the Five-Week Intensive will culminate in a big premiere night, complete with a red carpet, cast and crew photos and of course, popcorn! This is your chance to kick, back, relax and show off all your hard work, while taking pride in the other projects you crewed and helped to bring to life on the silver screen.

THE TAKEAWAY:
At the end of this wild five-week ride, not only will you have a great film under your belt, but you will have built a solid foundation in filmmaking and added some valuable technical skills to your resume, while forging close bonds with your classmates and instructors and gaining hands-on insight into whether a career in the film industry is the path for you. We can't wait for you to join us on this immersive, intensive, incredible journey of a lifetime!
THE FIVE WEEK SCHEDULE
The five week filmmaking course is designed to immerse the student from screenplay through post-production in an intensive course of study. Prepare to work evenings and weekends as necessary. Filmmaking is a collaborative process that will require all participants to work together throughout the course. This program is not a summer camp.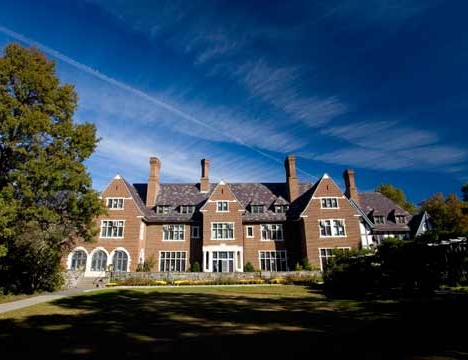 All classes will take place at the Sarah Lawrence College Heimbold Visual Arts Center. For creative and intellectually motivated students who want to make their mark on the world, Sarah Lawrence offers a unique approach to learning and teaching designed to produce capable, confident, creative 21st Century citizens with the imagination, drive and skills to make a difference in their own and others' lives. Sarah Lawrence's approach inculcates the entrepreneurial habits of exploration, risk-taking and invention that graduates will need to find solutions for which no models currently exist. A Sarah Lawrence education imparts the skills—as well as the courage—to think both creatively and analytically; work both independently and collaboratively, and act with both confidence and sensitivity in a complex and ever-evolving world.
REGISTRATION FOR THE FILMMAKERS COLLECTIVE
SUMMER IFI/SLC 2020
DATES: JUNE 29, 2020 - July 31, 2020
TUITION: $4,363.00
housing and meal planS available.